Bulging Disc Treatment From our Fremont, NE Chiropractor
Any back injury is cause for concern, especially bulging disc injuries. Not only can these injuries cause pain, but they can create a numb or tingling feeling in the neck, back, and extremities. Luckily, chiropractic care is an excellent choice for patients suffering from a bulging disc. Below, let's examine this injury in more detail and learn how a chiropractor at Brainard Chiropractic can help treat a bulging disc.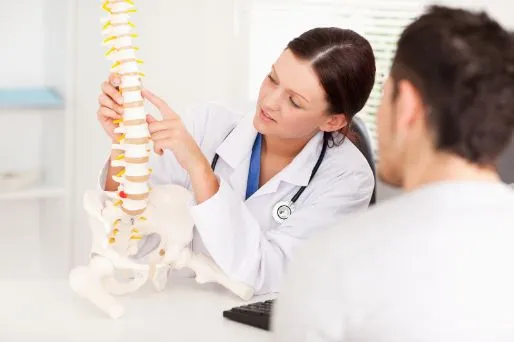 What is a Bulging Disc?
Within the spine there are several smaller bones called vertebra. In between each of these bones is a small disc-shaped structure. This disc is donut-shaped and filled with a water-based gel substance. The disc acts as a cushioning device, absorbing impact as you bend and move. Sometimes, the walls of the disc can become cracked, causing some gel to escape. When this happens, a bulging disc injury occurs. This is also commonly referred to as a herniated disc. While this injury is typically considered a degenerative disease, more common as people age, sometimes a bulging disc injury occurs as a result of a blunt force trauma injury.
What are Bulging Disc Symptoms?
The symptoms of a bulging disc injury will vary depending on the location and severity of the injury. Bulging discs in the upper back or neck are commonly felt in the shoulders, arms, and hands. Disc injuries in the lower back are commonly felt in the buttocks, legs, and feet. Pain can range from a dull ache to a sharp, and rather intense pain. Often, numbness and tingling accompany this injury. Commonly, people report feeling much more clumsy than usual, and often trip or drop items they are holding.
How Can a Chiropractor Help?
A chiropractor is a doctor that focuses on spinal health, and how it relates to the overall body. When the body is in proper alignment, joints, bones, and soft tissues can move freely and pain-free. If the body is out of alignment, sometimes undue stress and pressure can be applied to the wrong parts of the body, causing pain. A chiropractor has many tools at his or her disposal to help treat a bulging disc, including manual manipulation, physical therapy, massage therapy, electro-stimulation, or strengthening and stretching exercises.
Schedule an Appointment Today!
At Brainard Chiropractic we understand that bulging disc injuries can hinder even the simplest movements. Our team of professionals is dedicated, knowledgeable, and caring. We want people to feel their best, and create a customized treatment plan for each individual patient. Our office is easy to find, located at 1410 North Bell Street, Fremont, NE 68025. To learn more about how we can help treat your bulging disc, call us today at (402) 727-8668.